Four Seasons Total Landscaping Trademark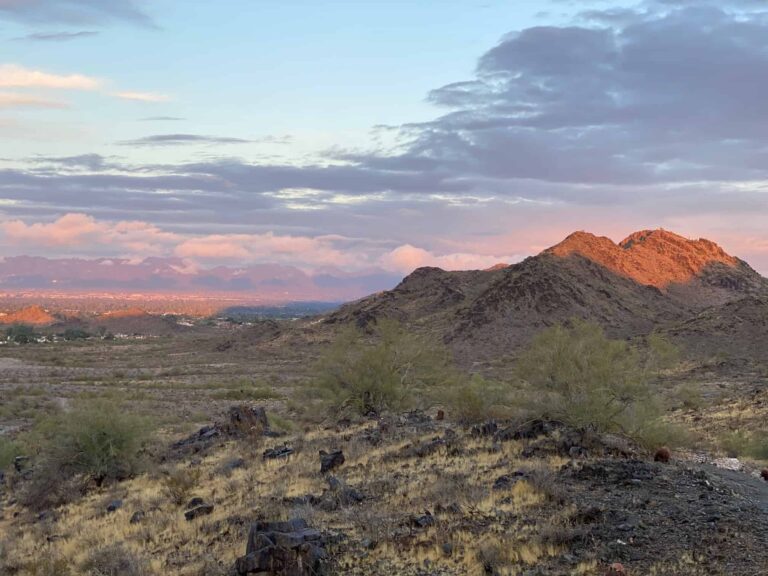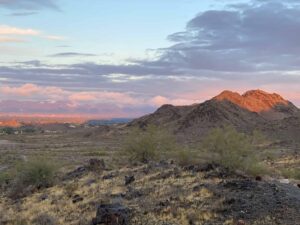 I don't write about current political events, but I've been pressured into writing this post because of its significance with respect to trademark law. Trademarks are fundamentally about protecting the public. Yes, trademarks can become valuable assets for big business, but they gain that value through reputation, goodwill, and recognition in the marketplace. The more famous a mark, the more likely it is to be protected.
Proper use and enforcement of trademarks ensures consistency in consumer experiences and thus protects the public. McDonald's provides an easy example of the essence of trademark law: when you go to a McDonald's restaurant, you know exactly what you are going to get. You may not love McDonald's, you may hate it, but you know just what it is they are offering inside. You may believe that McDonald's has low-quality cheeseburgers, but you have that perception of all McDonald's, so that you know if you visit Phoenix for the first time and visit a McDonald's, you can get the same low-quality cheeseburger that you always get back in your hometown of Duluth. Or, if you think the milkshakes you drink at your local McDonald's has just the right amount of sweetness and is the perfect texture and consistency, then when you walk through a McDonald's in Denver you are expecting that same thing. In other words, trademarks don't protect quality levels; they don't indicate that a product is high-quality (or that it is low-quality), they simply protect the expectation in or consistency of quality. You can get the same experience at this brand store that you do in this other similarly-branded store, whether that is good or bad.
Most people would agree that Four Seasons is a trademark with a fairly high reputation of quality. Anyone going to a Four Seasons-branded hotel will expect quality consistent with that reputation. And, most would agree that Four Seasons is a fairly famous mark. The owners of hotel chain spend a great deal of time and money advertising their brand, and most people in the country are aware of and recognize the trademark.
Famous marks are accorded broad protection. Marks like Coca Cola, Pepsi, Facebook, Nintendo, Adidas, Mercedes Benz – these are examples of famous marks. If you saw a Mercedes Benz-branded bicycle, you would probably think that the bike is made by the car company, or somehow affiliated with the car company, and you may also believe that the bike is of a fairly high-quality consistent with their automobiles. Fame is the ability of a mark to create an association between the product (bike) and the source of that product (Mercedes) even when the product is different from the source's core products (automobiles). The more famous the brand, the wider that each of product. It is hard to imagine any product being marked with COCA COLA without someone thinking that it comes from the soda company in Atlanta. Coca-Cola dinnerware? Could happen. Coca-Cola bicycle? Sure. Coca-Cola spark plugs? Maybe?
Four Seasons is not so famous as Coke, but it is still pretty well known. And that is where our president became confused. His campaign, seeing the name "Four Seasons" in Philadelphia, immediately made the association between the brand and the luxury hotel chain and did no further checking. Of course, we know how that turned out.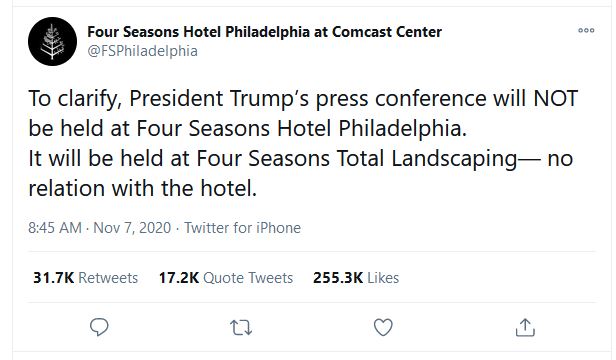 Now, was this an example of trademark infringement? Has Four Seasons Total Landscaping stepped on the hotel chain's rights when it picked its name?
Almost certainly not. While famous trademarks do have broad protection, there are limits. Landscaping services are very different from the hotel and spa services protected under the mark. Because the two sets of services are so different, in fact, they are able to coexist without the potential for consumer confusion. Which makes the President's mistake all the more amusing – it was the exception proving that, for most people, similar trademarks for very different services shouldn't be confusing.
P.S. – the comedy of errors continues, because on November 12, an individual in Hawaii filed for FOUR SEASONS TOTAL LANDSCAPING in connection with "entertainment services in the nature of a television series featuring comedy; entertainment services, namely, a website featuring information regarding a comedy television series; providing online, non-downloadable television programs and entertainment programming related to a comedy television series; and providing podcasts in the field of comedy television programming."