The picture at right showed up in my LinkedIn feed a few days ago.  How great is it?  This guy radiates optimism and determination, and he has from the moment I met him.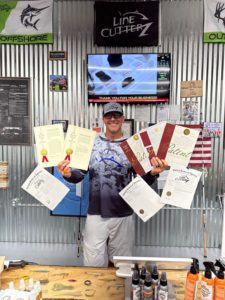 Vance Zahorski is the founder of Line Cutterz LLC and inventor of the Line Cutterz ring.  When we first met, he was successfully selling appliances here in Phoenix but clearly had bigger plans on the horizon.  He showed me his invention.  As the Line Cutterz website explains, after countless times cutting line with his teeth or fumbling for scissors and knives, Vance thought there had to be a safer and more convenient way to perform such a simple task.  We discussed patenting his idea, and I started working.
Not all people who file for patents are successful in obtaining them.  Even fewer people are successful in making and selling the products covered by their patents.  Vance beat the odds, and I'm convinced that it is his unwillingness to give up that did it for him.  This is a guy who sold his boat, his house, and just about all of his stuff to fund the company that he knew would succeed.
Vance was one of my clients who made it onto Shark Tank.  I didn't know this backstory, but apparently he originally sent Shark Tank a Saturday Night Live-themed parody of the show in which he presented his idea to the Sharks (just Vance dressed up as each Shark).  When that didn't prompt a return call, he relied on his good old American grit and drove from Phoenix to Dallas for auditions.  Months later, he was on the air, closing a deal with Daymond.  That was something he had been visualizing in his mind for two years.
Vance did everything the right way.  He sought expert advice and hired a great team.  He built his business deliberately and carefully.  And he grinded.
Vance checks in with me every few months, letting me know what big project he's just finished, what market he is going after, what deals he is working on next.  Vance has expanded into the sewing industry and just announced a new automotive line.  He is a great client to work with, and I couldn't be happier for him.  That picture says it all!