A Warm And Fuzzy Read For A Cold January Day In Arizona
Kami writes this post –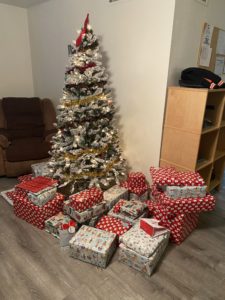 For many years, I oversaw an extensive holiday giving program for my former law firm which involved coordinating the purchase of gifts for hundreds of people in need.  With the help of my colleagues, we fulfilled wish lists that contained everything from toys to tube socks to towels.  The individuals we helped changed every year with one exception: a small group of adult men with significant mental and physical disabilities who lived together in a group home in Tempe, Arizona.
We first "adopted" this group home around 2008 through a wonderful local organization called The Centers for Habilitation.  Even after changing law firms in 2019, I made sure to take this group home with me, and my new firm agreed to adopt them.  When I joined Thomas W. Galvani P.C. in 2021, I again couldn't leave these men behind.  Tom and I have now begun helping these men out all on our own for the holidays.
Each year for the last 14 years, I have purchased gifts for and had a little pizza party with the gentlemen living in this group home.  Some men have come and gone, but there have been a few I have known for at least a decade.  Their wish lists for the 2022 holiday season were humbling as always and included new clothing, lunchboxes, puzzles, and keys and keychains to add to an ever-growing collection.
I was excited to take my daughter to the party with me this year, and I hope she will continue our family tradition of helping others when she becomes an adult.  While we don't really believe in New Year's resolutions at our house, if you are looking to start off 2023 by helping someone in need, we encourage to look at some folks that are often overlooked.  If you have any questions about TCH, please get in touch and we can help.  We hope your new year is off to a great start!